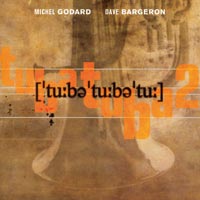 A second recording of TubaTuba - Michel Godard and Dave Bargeron on two tubas. Enjoy it! "Band of the year 2004"
Search Engines
AltaVista You know it as the Internet's original search engine.
Metacrawler Allows a (limited) search on all the search engines.
Alltheweb This is my favorite. The search engine on most search engines with a more extended variety of results (compared to GOOGLE)..

Special Links
Serpent Discography Records of Michel Godard and other serpent players are documented here. By the way: Do You know the ophicleide? (M. Godard used it only once on his "Le chant du serpent" recording)? Here You are able to inform about it and the specific cosmos of the serpent family.
Levinson Concerts How to book Michel Godard and his interesting projects? Ask Sharon Levinson. She is also booking agent of Rabih Abou Khalil, Charlie Mariano, Dhafer Youssef, Ani Choying Drolmaand Move D (Dave Moufang).
Pierre Charrial's Site All You like to know about barrel-organs and Pierre Charrials material.
Sylvie Courvoisier Site of the Swiss pianist and composer
Patrick Bebelaar Homepage of the German piano player and composer who published two interesting records with Michel Godard.
MA Recordings "Music with a mind of its own." Two recordings with Michel Godard are in the tape!
A.R.F.I. The Lyon based Association à la Recherche d'un Folklore Imaginaire and its homepage
Michael Riessler Discography Although ignoring some of Riessler's classical music activities this discography was very helpfully for my work on Godard's discography.
Dutch radio-essay about Michel Godard Also interesting for people who are not able to read Dutch - because of its contrasting music examples and a basic Godard discography.